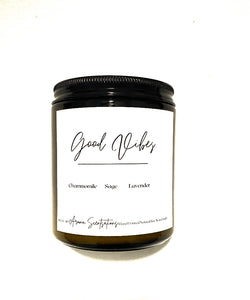 Description

This scent is packed with a blend of herbs, lavender, and aromatic woods. The earthiness blend of sage and chamomile reinforces positivity and gets rid of those bad vibes. This clean, herbal scent will transform your space into a beautiful, calming environment. 
Scent Profile
Lavender, Chamomile, Sage, 


Burn Time
7 oz: 40-47 Hours
Our candles are hand-poured into a classic amber reusable glass container with a sleek black lid. We use 100% natural soy wax and it is paired with an eco-friendly wick that is free of zinc and lead. Our candles are scented with fragrances that are 100% eco friendly and highly concentrated.